Prompted by Chris's tweet:
The top place for food in Newcastle on 4sq is Wagamama. Really?

— Chris Heathcote (@antimega) November 12, 2013
I decided to poke around Foursquare's top checkins in various decent-sized British towns and cities outside London. Turns out Wagamama is also the top place for food in Cardiff, and in the top five in at least half a dozen others: Norwich, Nottingham, Reading, High Wycombe, Portsmouth and even Birmingham. Look more broadly, and some other names start showing up again and again: McDonalds, KFC, Nando's, Toby Carvery, Harvester, Frankie and Benny's, Walkabout. In towns like Stoke or Huddersfield or Gloucester, it's chains all the way down.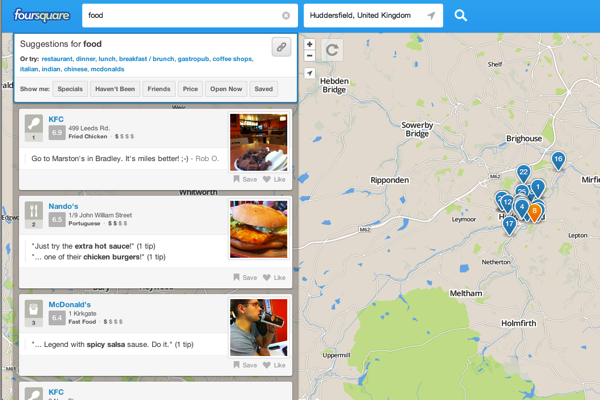 From that, you might think that British Foursquare users have pretty lowbrow taste in food, but given the reviews, that's clearly not what's going on here. You might also suspect that these chains are rewarding Foursquare checkins with discounts, but that's also not quite right. Instead, they all have one thing in common: free wifi.
That surprised me, because in spite of the relatively low cost of mobile service in the UK — as little as £12/mo gets you a tariff with unlimited data — it implies that Foursquare is being used primarily in locations with a wifi connection, where access isn't limited to mobile network speeds, and won't eat into any data cap.
Where are the exceptions to the chain dominance here? Generally, larger and more affluent towns and cities, especially ones with large student populations: Manchester, Brighton, Oxford, Cambridge, Durham, York, Bristol, Bath, Glasgow, Edinburgh. But even there, the top checkins tend to be at coffee shops and other places that have wifi available.
It's hardly a scientific analysis, but it suggests that even as internet use switches to mobile platforms, we shouldn't assume that smartphone ownership translates smoothly into active use of online services when that means drawing upon mobile data.